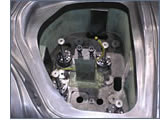 Ford Motor Company, Inc.
Force Modulator™ systems are currently in use at multiple Ford Motor Company plants.

"Ford Waves Bye-Bye to Wrinkles, Tears, and Splits"
(Text of article that appeared in MetalForming magazine, July, 2004)
[pdf file 176k]

Case History 303: Light Truck Hood
[Microsoft Word document 72kb]
General Motors Corporation
A major component supplier to General Motors has completed the installation of a Force Modulator™ system and is using it to make a very deep draw, high strength steel bumper.
Chrysler Corporation
Chrysler has selected the Force Modulator™ system for use in their test bed for high strength steel parts.
Maytag Corporation
On a new appliance line, Maytag chose the Force Modulator™ system for its ability to form deep draw parts.
Contact us for an updated list of installations and operating results.